Zoo InternQuest is a seven-week career exploration program for San Diego County high school juniors and seniors. Students have the unique opportunity to meet professionals working for the San Diego Zoo, Safari Park, and Institute for Conservation Research, learn about their jobs, and then blog about their experience online. Follow their adventures here on the Zoo's website!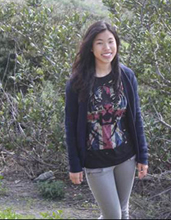 I was the middle child of my family. I grew up with two sisters who looked very similar to me and, thus, most people expected us to be somewhat alike. However, I had developed an interest in wildlife which separated me from them, and with that a passion grew. I remember going outside in my backyard as a young child looking at the trees and under rocks for various insects and small animals. My dad saw this, and he knew I had inherited his passion for animals and the environment as well. I watched programs that aired on the Discovery Channel and Animal Planet. My sisters would tell me that I was boring and too "old" for my age, but because of my interest in wildlife I found my individuality. This would guide me towards an appreciation for the environment and my community.
I wanted to find an outlet for my interest in nature but I did not know where to begin. Upon learning about the San Diego Zoo InternQuest program, I eagerly jumped at the opportunity. I hope that my interest in animals and the environment will one day manifest itself into a full-blown career, whether it be in veterinary sciences or conservation.
With my last year of high school at hand, making the most of it is my goal. I have already learned so much through the extracurricular activities and sports that I am involved in, such as track and cross country.  These sports have become a very important part of my life. Not only do they teach me to stay in shape, but also amplify my appreciation for the environment. I have the privilege of running with other athletes and friends on different trails through San Diego's wilderness. I have learned secret routes and places that I can call mine. These trails have become my haven where I can spend time thinking about possible career paths I might take. The more I experience nature, the more I am inspired  to pursue a profession working with nature and animals. I look forward to interning at the San Diego Zoo for the next seven weeks and learning about the different professions that work with wildlife.
Charlene
Winter Session 2013
RELATED POSTS