Zoo InternQuest is a seven-week career exploration program for San Diego County high school juniors and seniors. Students have the unique opportunity to meet professionals working for the San Diego Zoo, Safari Park, and Institute for Conservation Research, learn about their jobs, and then blog about their experience online. Follow their adventures here on the Zoo's website!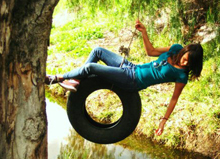 Ever since I was little, I have always been fascinated by animals. Animal Planet was the station to watch and the petting zoo was the place to be. The first thing I said I wanted to be when I grew up was a veterinarian. Even though I was discouraged for a while – after watching a veterinarian put his entire arm up the behind of a horse – I came to realize that there are so many wonderful opportunities that involve animals. 
My dog Pasha made me realize just how special animals are. Every day without fail, she waits the front door with a wagging tail, ready to cheer me up or keep my good mood going. Although she can be a lot of hard work (especially when she eats my socks), I still love her to death. Besides taking care of my own dog, I also help my neighbors and friends with their pets, walking their dogs and feeding their cats.
My academic life has also contributed to my love of animals. Throughout high school I have taken courses and joined clubs that have enhanced my knowledge about animals and conservation. Two of my favorite courses so far have been AP Biology and AP Environmental Science. Outside of the classroom I have joined different volunteer clubs at my school, such as National Honor Society. Along with a friend from my volleyball team, I started a club called Clean the Courts. Our goal is to help keep local beaches clean while staying active through sports, such as beach volleyball.
As much as I have loved my experiences with animals so far, I cannot wait to get started on my journey as a part of Zoo InternQuest. Every day will be a new and exciting experience that I can share with you. I hope you follow along on my blog and learn something new about animals and conservation!
Jade
Winter Session 2013
RELATED POSTS