Zoo InternQuest is a seven-week career exploration program for San Diego County high school juniors and seniors.  Students have the unique opportunity to meet professionals working for the San Diego Zoo, Safari Park, and Institute for Conservation Research, learn about jobs, and then blog about their experience online.  Follow their adventure here!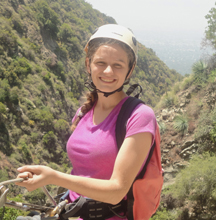 Hello everyone! I'm Cameron, high school junior and animal enthusiast. I enjoy outdoor adventure sports like hiking and rock climbing, as well as learning the Mandarin dialect of Chinese. I'm interested in many things, but conservation, writing and, of course, animals are where my true passions lie.
I have been somewhat obsessed with animals and the natural world since I was very young. I grew up watching Animal Planet, making lists of the different dog breeds I saw on the street, and jumping at every opportunity to visit the zoo or a stable, or an animal shelter, or a sanctuary…as long as it had animals, I was game. Six-year-old me assured my classmates and neighbors that I was not a "kitty-cat" for Halloween; I was an ocelot.
When I was four, I became interested in the Chinese language. My preschool teacher taught me a few simple nursery rhymes in Mandarin, and I have kept at it all these years. I got the chance to go to China for the first time on a language scholarship in the summer of 2011, and went to the zoo in Shanghai. I was very interested in the many differences that I observed between that zoo and the ones I had been to in America, and I set out to investigate.
As I wove my way into the world of zoos, I met many fascinating people and my interests gradually shifted from exhibit design to conservation education. Currently, I'm working with the Beckman Center's Dr. Chia Tan on the Little Green Guards program, a fun, monkey-themed conservation education project aimed at rural elementary schoolers in southern China. I'm creating a video series that will be shown at an after-school club. In the vein of Steve Irwin (minus the crocodile-jumping) and the Kratt brothers (minus the talking puppet), I teach in Mandarin about animals alongside the English alphabet. For example, as of this writing we're just wrapping up the first episode, "A is for Ape." It's been fantastic, and I only have more to look forward to!
I have great hope for both my own future and for the future of the world. Above everything, I want to change this world for the better, one kid (or animal) at a time. I know that this internship will be an amazing experience, and I'm so excited to not only go through it myself, but to share it with all of you!
Cameron
Winter Session 2013
RELATED POSTS