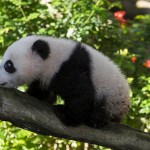 Our animal cams aren't just for fleeting entertainment. As a wildlife conservation organization, our mission is to connect people to wildlife and conservation, and our live cams are incredibly powerful tools that allow us to connect people to wildlife worldwide in real time. With the birth of our sixth panda, Xiao Liwu, Panda Cam has enjoyed a resurgence in popularity. We get comments from people all over the world about Panda Cam, but one in particular touched us, and we wanted to share it with you. Enjoy.
"My sister and I began watching these bears when our little gift was born. Then I took them to the hospital where I work and began sharing. For all of my patients and our nursing staff from Sutter Cancer Center in Northern CA, I say THANK YOU to all at SDZ. Your Panda cams and blogs have made a difference in how our very ill patients cope and get through their medical processes.
I am an Integrated Therapist & Medical Aromatherapist. The first thing I do for a new patient who will be staying for awhile is show them how to log on to the Panda Cam. We have all watched our "little gift" be born and grow & now make his debut. He is a wonderful deterrent to pain, depression, loneliness and hopelessness. We all thank you so much for providing this wonderful gift for us and our patients. It speaks to the Quality of their Life as they go through treatments.
This is something that should be put in all hospital long-term care and critical-care units. In the love of this little fuzz ball, my patients need less medication for coping and sleeping. I have been known to turn off their computer as they fall asleep with Xiao Liwu sleeping quietly on the screen in their lap. [All hospitals] should consider using this in their critical care and long-term care facilities.
We all love you Bai Yun and our little healing bear, "little Wu." Happy anniversary to Gao Gao! Forever fans, Robin Gayle & Dixie Lee."
Matt Steele is the social media planner for San Diego Zoo Global.

RELATED POSTS