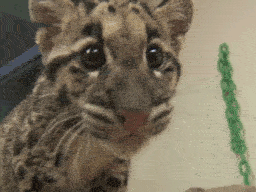 Haui and Rikki have settled in and spread themselves out here in the NACU. Their day centers on food, nap and wild fun at playtime.
Somehow along the way, we gave Rikki a nickname which has stuck. This frequently happens here in the nursery. Rikki's second name is now Rolli (named after the slightly pudgy and always hungry puppy in the movie 101 Dalmatians). We're having a lot of fun with these boys and trying to stay ahead of them by providing fun things to do.
We house the two boys in a large room which they have full run of. In the center of the room is a climbing structure for play. This elevated perching affords repeated attempts at dropping on and surprising your brother – a move that is held in high regard. The room also has a cozy box enclosure which the boys love to relax and sleep on top of. Lately though the two have learned to scale the countertop and from there, they climb all the way to the top of the refrigerator where they survey the landscape or nap in a comical, relaxed heap.
Several times each day it is time for playtime. We move Rikki and Haui to a much larger room (and here we have to keep a vigilant eye on them because there are all kinds of things they can get into) where we provide a variety of fun toys and furniture items. Here, the boys have even more opportunities to really "get down" and play in earnest. Anyone who has watched the scene through the nursery window will agree that things get crazy! There are dramatic leaps, pounces, chases and some rough landings. They love large branches and toys that we drag about so they can practice and perfect their leaps and pounces. The boys love big cardboard boxes too – they make a satisfying noise and enjoyable slide when landed upon. Another big favorite is our office chair which rolls crazily across the floor if one of the guys lands just right.
Haui remains nimble and quick. He constantly hounds his brother by launching carefully planned attacks. When the two wrestle they can be rough, but no one really gets seriously hurt. These battles are fantastic to watch because they attest to the strength, balance, agility and speed of these remarkable cats. Clouded leopards do not purr, but they do make an adorable vocalization called a chuff, which is reserved for a greeting.
On December 19th both boys received their quarantine exams. These exams took place at our Jennings Center for Zoological Medicine. The two were held off food and water in the morning as per our protocol, and then transferred by airline crate to the hospital. Our capable and talented veterinary, wildlife disease, and tech staffs thoroughly examined them. They conducted a number of medical diagnostic tests to make sure both were in perfect health. The boys did very well during the exam, recovered quickly, and passed with flying colors. They returned home to the NACU and we were glad to see that they were playing quietly together early that same afternoon.
To the staff here in the NACU, the quarantine examination signals that the boys will soon be leaving our facility. They will enter the collection at Backstage Pass and begin their training. As we look ahead to the time of their departure, we know that we will miss them.
Janet Hawes is a lead keeper at the San Diego Zoo. Read her previous post, Clouded Leopards: Getting to Know the Boys.
RELATED POSTS