Zoo InternQuest is a seven-week career exploration program for San Diego County high school juniors and seniors.  Students have the unique opportunity to meet professionals working for the San Diego Zoo, Safari Park, and Institute for Conservation Research, learn about jobs, and then blog about their experience online.  Follow their adventure here!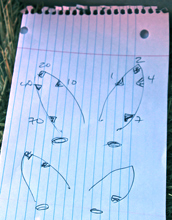 The San Diego Zoo Safari Park has large exhibits, some of which are multiple acres, that we were able to explore on the back of a keeper's truck during our adventure today. This trek through these unique exhibits was exciting to discover, as parts of our journey reminded me of a typical morning at a ranch. However, this 1,800 acre facility is much larger and more diversified than anything I have ever seen. Mammal Keeper Jennifer Minichino and Senior Mammal Keepeer Torrey Pillsbury are some of the staff with the daunting task of taking care of the animals in this area . Not only does their job include feeding the wide variety of animals at the Park, they much also keep track and count all the animals, to make sure all of them are there and to see if any babies were born. This also allows them to make sure they look at every animal in the exhibit and ensure they are all healthy, which is actually very similar to how a ranch is run. They even use similar methods to keep track of animals. Most ranches will use ear tags and ear notches as an identification method, and the Safari Park has taken this method and modified it a little to fit their individual needs.
Each animal is given an ear notch at birth or shortly after, and represents their species number. This number system goes from one to ninety-nine, and after that they start using ear tags. These represent a different number, with red as 100, yellow as 200, orange as 300, and blue as 400. These ear notches and tag systems let the keeper identify animals from a distance with binoculars. They give each animal the notches and tags as soon as possible after birth, out in the field. Some species cannot be ear tagged or notched, such as the giraffes and rhinoceros. To keep track of these specific species they must learn each individual animal by their markings or other behavioral characteristics.
Sometimes animals are rotated, much like a ranch would rotate their livestock. If males are fighting in an exhibit or one animal is picking on the others, they must move the animal for the safety of the others. There is a wide variety of ways animals can be moved. The larger animals like rhinoceros are actually herded, like cattle, into separate enclosures. Ms. Pillsbury said this is usually very difficult because rhinoceros have the ability to go more places in the exhibit then the keepers can go, and are the size of the keepers' trucks!
The Safari Park and traditional working ranches utilize many of the same methods to keep accurate account of their animals. The goals of these two entities may be different, but the tools utilized, such as ear notching and ear tags, bring them together in the management of the animals they care for.
Scott, Real World Team
Fall 2012, week six
RELATED POSTS