Zoo InternQuest is a seven-week career exploration program for San Diego County high school juniors and seniors.  Students have the unique opportunity to meet professionals working for the San Diego Zoo, Safari Park, and Institute for Conservation Research, learn about jobs, and then blog about their experience online.  Follow their adventure here!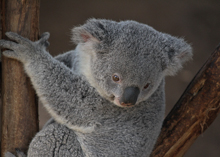 We learned this week from Jennifer Tobey, Research Coordinator at the San Diego Zoo Institute for Conservation Research, that the San Diego Zoo has one of the most successful breeding programs of koalas (Queensland sub species) outside of Australia. This is important because other zoos are benefiting from the San Diego Zoo loaning them koalas for their exhibits. This allows for many people to see and learn about koalas, as wild capture of threatened species is generally no longer practiced. The Zoo currently has 75 animals, twenty on site, and the rest are out on loan. Ms. Tobey's research projects are to understand why San Diego Zoo's breeding program is so successful through studying the behaviors, scents, and sounds of the koala.
Koalas are found in the states of Queensland, New South Wales, Victoria, Australian Capital Territory, and Southern Australia. Status of the species varies by different governments and regulating bodies. In April of 2012, koalas were listed as threatened in Australia.  Three of the five locations (states of Australia) where koalas exist; Queensland, New South Wales, and Australian Capital Territory now consider the species threatened.  In Victoria and Southern states, these koalas are not viewed as threatened and even considered overpopulate.  The northern populations are at greater risk largely due to habitat loss, degradation, and fragmentation. Some examples of this are large areas cleared for farming and burning of the land.
Officially there is only one species of koala, and two subspecies (the northern and southern) This may change as genetic testing has been started to determine if this is actually the case. Within the northern subspecies there are populations in Queensland and New South Wales. In the southern subspecies there is the Victorian and Southern populations. These subspecies vary in appearance, northern koalas are grayish white, smaller in size, and have thinner fur, as they live in a warmer beach like habitat. Southern koalas are brown in color, larger in size, and have thick bushy fur as they have adapted to a colder, harsher climate. Koalas are spread out over a large geographic range, with some isolated populations, and a significant variance in habitat. These factors may explain the differences in physical appearance. Only with genetic testing, will we know how many subspecies really exist and clarify which populations need protection.
Some of the research that is being done on koalas is studying the components of the male scent. The scent from a male is strong, malodorous, and unique to each male koala. Male koalas have scent glands that are located on their chest, starting under the chin and extending to the groin. Males will mark trees with their scent to attract females during the breeding season. There are now man-made versions of these scents that are being used to help the koalas. One way the man-made scents are being used is by planting it on the bark of the young trees. In studying koala behaviors, we have learned that tender baby eucalyptus leaves are like candy to the koala and they can kill a tree by repeatedly eating the new growth. With some of the new techniques with synthetic scents and tree guards, the trees can be protected
This week we learned about new techniques in studying animals and their behaviors. This gives me hope that humans and animals will be able to co-exist.
Colton, Wildlife Conservancy Corner
Fall 2012, week three
RELATED POSTS