Zoo InternQuest is a seven-week career exploration program for San Diego County high school juniors and seniors. Students have the unique opportunity to meet professionals working for the San Diego Zoo, Safari Park, and Institute for Conservation Research, learn about their jobs and then blog about their experience online. Follow their adventures here!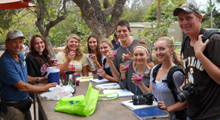 When most people look at plants, they just see a brilliant flower or a magnificent tree. There are some people out there who can name the specific plant sitting in front of them. Then there are horticulturists like Mike Letzring who can tell you where that plant came from and its attributres.
Mr. Letzring has spent 16 years working for the San Diego Zoo and is currently the Manager of the Zoo's Horticulture Department. Mr. Letzring has spent a total of 30 years in the horticulture and landscaping business and received an Associate's Degree in Nursery and Landscape from Mesa College. He applies that knowledge to all the projects he does at the Zoo to create better and more efficient ways managing the Horticulture Department. Mr. Letzring helps design the plants inside animal exhibits. It takes quite a bit to develop an animal's enclosure: the horticulturists have to study the animal's habits so they can place plants in spots that won't interrupt the animal's routine or cause problems for the animal or the plant. If, say, a tiger walks the same path every day, they aren't going to put a bush there, because the tiger will just trample over the bush. Mr. Letzring has to put together a list of the plants that he wants to put in the exhibit and sends the list to the Zoo's Curator, the veternarian and nutritionist, who all make sure that none of the plants will be harmful to the animals in the enclosure.
Mr. Letzring also contributes to the design of the Zoo's landscape. Many of the plants that can be seen in the Zoo are plants that are endangered in the wild, due to poaching and habitat destruction. Locals will chop down the trees or burn the vegetation for either some kind of product, like charcoal, or to create farm land. The Zoo manages to plant and care for all the plant life found in it through cooperation with botanical gardens throughout the world and some private gardening groups. Mr. Letzring tries to situate plants in climates similar to their natural ones as much as he can, but he also places them in areas that they normally would not survive. There are several enclosures and gardens that call for specific plants that do not thrive in San Diego's climate. In situations such as that, Mr. Letzring has to think out of the planter, and develop things like the raised planter he made for a coconut tree. Coconut trees do not handle the cold and wet ground very well, so he made a planter that raises the tree above the ground. This allows the soil to drain water faster, and since it is made out of concrete it will retain heat and help insulate the tree. Mr. Letzring always puts plants in a position where they have the best chance of surviving.
Throughout his 30 years in the horticulture business, Mr. Letzring has learned a lot, but he is still learning. He has to keep up to date with information on the plants because botanists are constantly releasing new information. However, he does not mind, because Mr. Letzring prefers to share all the information he has piled up and educate others about plants. He does get irritated by the peacocks though, because they love to go around and dig up the plants for fun. Mr. Letzring is also an avid gardener at home, and experiments with new ideas in his own garden, like dragon fruit smoothies.
Plants are amazing creations. Each of them has an incredible story behind where they came from, why they look like they do, and how they support the habitats around them.They can provide food or medicine or they can be a home. Not every plant is physically beautiful, but every plant has an important function and is necessary. Just like everyone who works at the Zoo, contibutes something unique. Mr. Letzring keeps the Zoo looking lush and green, something that people can take for granted. That annoying little shrub in your front yard could be an endangered berry bush in West Africa that supports a fruit bat. An aloe plant growing in your backyard that would actually hurt the sunburn on your arm instead of heal it. Horticuluturists like Mr. Letzring are remarkable because they notice and know all those details and will share their knowledge with the public.
Madison, Careers Team
Fall 2012, Week 3
RELATED POSTS