Zoo InternQuest is a seven-week career exploration program for San Diego County high school juniors and seniors. Students have the unique opportunity to meet professionals working for the  San Diego Zoo, Safari Park, and Institute for Conservation Research, learn about their jobs, and then blog about their experience online. Follow their adventures here!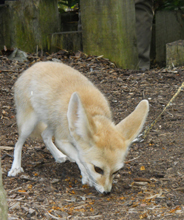 Everyone has heard the saying "you can't teach an old dog new tricks". Well Nicki Boyd, the Behavior Husbandry Manager at the San Diego Zoo, disputes that. She proves that not only can you teach old dogs new tricks, but you can teach bears, orangutans, fennec foxes, and many other animals as well! Mrs. Boyd's job is to run the shows and coordinate the training program for the entire Zoo.
Mrs. Boyd teaches a variety of animals different commands, called "behaviors". Each of these behaviors has a purpose, many of which relate to medical treatment. The animals are trained to present parts of their body to the trainers and veterinarian staff. This means that an animal does not need to be sedated and/or stressed out to during physicals. The animals can present trainers their hands, teeth, tongue, back, sides, and other parts as well. This allows trimming of nails and teeth, as well as vaccinations or blood withdrawals. A strong bond of trust between animal and trainer is required for these procedures. This bond allows for proper care with minimal stress and hassle for the animals, ultimately resulting in less time and money for the Zoo.
If the behaviors do not aid in medical treatment they are used as enrichment (physical and/or mental stimulation) for the animals. The trainers teach behaviors normally done in the wild, such as Mrs. Boyd teaching Akela, a fennec fox, to dig. Akela would normally perform this action in the wild to make burrows. Here at the Zoo, Akela's knowledge of this behavior stimulates her mind and body. Education is a great form of mental and physical stimulation, just like training is for animals. Without training there is no challenge for the animals to overcome. Both students and animals need that challenge to improve and excel their current mental and physical state.
In order to keep training sessions enjoyable, Mrs. Boyd keeps them short and varied. She will often ask the animal for easy commands while she is trying to teach new ones. This avoids frustrating the animal when it does not understand what is being asked. Mrs. Boyd uses only positive reinforcement, however it comes in many forms. Most animals are motivated by food, while others enjoy being able to be kept in social groups, and some just like being scratched. Often Mrs. Boyd uses what is called a "clicker" to aide in her reinforcement of behaviors. This clicker makes a specific noise that helps her "bridge" behaviors. Bridging behaviors means that the animal will hear the noise and understand immediately when it did something right. It then will associate the click with the reward given.
Mrs. Boyd stated that all species of animals are different, each having different levels of intelligence, and ways of approaching situations. Even amongst similar animals such as primates, each species deals with situations differently. This trend also trickles down to the individual animals themselves. Mrs. Boyd explained that different animals have their own personalities and ways of learning, and this needs to be taken into account when training an animal.
Whatever the species, patience is the most important part of training. With positive reinforcement and patience any animal can learn behaviors. This is instrumental in their development and improvement. Animals, just like people, need stimulation and motivation. Additionally, the training allows for safer and more efficient medical care. Luckily the Zoo has Mrs. Boyd to teach all their animals many behaviors to keep them active, happy, and healthy.
Denae, Real World Team
Fall 2012, week two
RELATED POSTS