Zoo InternQuest is a seven-week career exploration program for San Diego County high school juniors and seniors. Students have the unique opportunity to meet professionals working for the San Diego Zoo, Safari Park, and Institute for Conservation Research, learn about their jobs and then blog about their experience online. Follow their adventures here!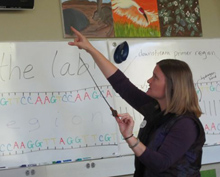 There are many amazing things in the world, some of them in our own bodies. The other interns and I learned just how amazing they are with Maggie Reinbold, Conservation Program Manager at the San Diego Zoo Institute for Conservation Research. During our stay with Mrs. Reinbold, we got an incredible inside look at the rare California condor and the chance to analyze their DNA.
Aside from organizing the education side of the Beckman Center, Mrs. Reinbold is a geneticist. She received a bachelor's degree in Zoology as well as a master's in Evolutionary Biology. Before she worked her way to those degrees, Mrs. Reinbold said she planned on becoming a judge. She loved the idea of justice and fighting for it. However, she attended a lecture about conservation and her mind was completely changed. Mrs. Reinbold said that while all the other students left that lecture depressed, she felt empowered to go out into the world and fight for biodiversity.
Mrs. Reinbold worked in several different jobs before she found herself where she is now. She started out teaching hands-on science in elementary schools and was also part of the PISCES Project where she worked with classroom teachers to help teach science in local schools. Mrs. Reinbold held a similair job at the San Diego Natural History Museum. Among the other organizations she has worked for, Mrs. Reinbold spent some time on the Steering Committee of the BEWISE program (Better Education for Women In Science and Engineering), where she visited the Institute for Conservation and Research while hosting a group from the program. After that visit, Mrs. Reinbold became an intern, known as a Fellow, in the Genetic Division at the Institute.
Her job as the Conservation Program Manager requires quite a bit of traveling. Her job has taken her all over the world, from Madagascar and West Africa to Hawaii. She participated in projects like the one for the California condors and the Anegada iguanas. On both projects Mrs. Reinbold was able to handle caluable genetic samples. Now a days, Mrs. Reinbold does not travel as much as she used to, since she stays in the lab to prepare all of the presentations and host seminars that actually teach teachers how to explain science in the classroom better. Mrs. Reinbold expressed her excitement at the start of a new research project where they are going to do a study to see if those teacher workshops are having a measurable positive impact on students.
The best part of her job, she said, has to be the education aspect, while the worst part is having to write lots of emails. Mrs. Reinbold is considerably busy with her job, but is lucky that every day is a different day, with different responsibilities and tasks to be completed. It's an eventful life for a Conservation Program Manager like Maggie Reinbold.
Madison, Careers Team
Fall 2012, Week Two
RELATED POSTS