Zoo InternQuest is a seven-week career exploration program for San Diego County high school juniors and seniors. Students have the unique opportunity to meet professionals working for the San Diego Zoo, Safari Park, and Institute for Conservation Research, learn about their jobs, and then blog about their experience online. Follow their adventures here!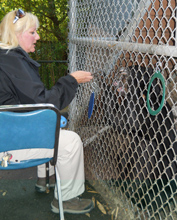 Thanks to the San Diego Zoo's Behavior Husbandry Manager, Nicki Boyd, we were able to meet some exciting animals. We followed Mrs. Boyd through the Zoo to get up close and pesonal with Phu the binturong, Akela the fennec fox, and Francis the sun bear. Though the general public does not normally get the chance to interact with animals such as these, it is all in a day's work for Mrs. Boyd. In her position, Mrs. Boyd not only manages the shows and the Zoo's training program but  participates herself with animal training.
Even before her job at the Zoo, Mrs. Boyd's path began with animals. She started her career by working in an exotic pet store and volunteering with animals. Later, she attended Moorpark College, a year round junior college in which the students care for exotic animals on the zoo's campus. Mrs. Boyd knew this college was for her when she walked into the school to find "a lion sitting right out front." There, she pursued a path in Exotic Animal Training and Management. She later earned degrees in Veterinary Technology and Animal Care. Out of her degrees, one of the most beneficial has been her Business Degree. This degree taught Mrs. Boyd the skills of communication and problem solving in a work environment.
This skill of communication is definitely an essential part of a Husbandry Manager's job. Trainers must be able to interact with their human coworkers, as well as the animals. Every animal has several trainers, and if each person uses a different training method it can cause confusion. When working with coworkers, a trainer must have verbal skills capable of clearly illustrating a point. Trainers must also have nonverbal skills, for communicating with the animals. If anyone has ever tried to teach their dog how to stay, or their parrot how to speak, then they know the time and effort it takes to learn this behavior. Due to this factor, an animal trainer's most important quality is patience. It can take months for a specific behavior to finally "click" with an animal, but it is well worth the wait because of the value of training.
The training of certain behaviors is extremely important in the Zoo because it can reduce an animal's stress, save time, lower medical costs, and increase the safety of both trainer and animal. These benefits are mostly due to the fact that behavioral trainers have the task of teaching animals to assist in their own healthcare. For example, one of these behaviors is called "station and shift," in which the animal comes to a designated spot when signaled. This skill can ease the stress of trying to gather an animal for medical purposes, and reduces the need for anesthesia. Animals also learn to do "body presents," which allow trainers access to different body parts for examinations, blood work, and injections.
So what kind of skills should the humans have if they want a job training animals? Above all, trainers must be extremely dedicated. While humans may celebrate holidays such as Christmas or New Year's Eve, animals do not. Rain or shine, holiday or summer break, trainers must be there for those in their care. Despite the massive commitment required for Mrs. Boyd's job as Behavior Husbandry Manager, however, she has been able to participate in many travelling opportunities. With the Zoo, Mrs. Boyd has visited places such as Singapore, Africa, Australia, Spain, and Germany.
If these aspects of  Mrs. Boyd's job appeal to anyone, Mrs. Boyd recommends that those considering a job like hers should accumulate as much experience as they can before applying for the job. She makes the point that when applying to a job at the Zoo, it is more beneficial to have had a previous job with animals than to have worked somewhere like a restaurant. Volunteering with animal-related organizations and internships can also benefit someone's resume by showing their dedication to the chosen career path.
The San Diego Zoo is one of the best zoos in the world, and all of its workers have applied much time and effort to get where they are today. Finding the perfect career path is not easy, but if you get out and get working, one day you might just find yourself in an enclosure with a fox or on the other side of a binturong's leash.
Keira, Careers Team
Fall 2012, Week Two
RELATED POSTS