Zoo InternQuest is a seven-week career exploration program for San Diego County high school student juniors and seniors. Students have the unique opportunity to meet professionals working for the San Diego Zoo, Safari Park, and Institute for Conservation Research, learn about their jobs, and then blog about their experience online. Follow their adventures here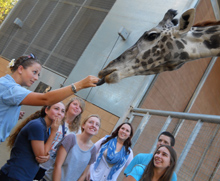 The San Diego Zoo is a huge advocate of conservation. Ms. Maya O'Connor, an Educator at the Zoo, knows all about conservation and just how important it is to inform people about how they can help. Our day with Ms. O'Connor consisted of meeting several animals and getting a behind-the-scenes look into some animal exhibits. What really got my attention when Ms. O'Connor was talking to us was how everything she does is somehow connected to conservation. Throughout the day she was constantly teaching us ways we could help, and it was surprising to learn that there were so many little ways I can make a difference. Educators, such as Ms. O'Connor, play a key role in letting the average person know what they can do to help, and what is going on with animals locally and globally.
Ms. O'Connor introduced us to Mussopo, a Virginia opossum, and shared with us ways to help protect this furry little creature which happens to be a native species and the only marsupial in North America. Part of Ms. O'Connor's job is to bring out animals such as these to get people interested in wildlife. They are called animal ambassadors, and they travel to children's hospitals and schools, to get people connected and involved in wanting to protect them. I can guarantee that once you see an adorable opossum in person you are going to be more inclined to help keep that species alive. That is precisely the thinking behind this part of Ms. O'Connor's job. We actually got the opportunity to feed the giraffes and camels which you can also do on an Inside Look Tour or at the giraffe feedings on the weekends. When you come and feed the giraffes at the Zoo the money you spend on their food goes directly towards helping the Grevy zebras! She told us about how by just coming to the Zoo we are making a difference when we buy our ticket, and that alone is an easy and fun thing to do!
While feeding the giraffes, Ms. O'Connor spoke to us about the SSP. Part of what makes the San Diego Zoo such a valuable resource for conservation is the SSP, otherwise known as the Species Survival Plan. This plan is similar to something we know as online dating; the animals are matched up to ensure that their offspring will be healthy and genetically diverse. The Zoo is in charge of breeding certain species of animals, such as giraffes, and this plan ensures success. Different zoos have different animals that they are responsible for breeding, and the San Diego Zoo takes great pride in being a part of this program.
Ms. O'Connor made sure to tell us of ways we could help out even at our own home. By conserving water and turning off appliances when we aren't using them we can help to conserve resources so that we don't have to destroy the environment and disrupt wildlife. It is crucial that people such as Ms. O'Connor educate the general public to do their part so that we can continue to help as many plants and animals as possible.
Robin, Conservation Team
Fall 2012, week one
RELATED POSTS