Zoo InternQuest is a seven-week career exploration program for San Diego County high school student juniors and seniors. Students have the unique opportunity to meet professionals working for the San Diego Zoo, Safari Park, and Institute for Conservation Research, learn about their jobs, and then blog about their experience online. Follow their adventures here!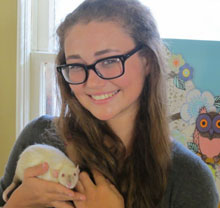 Salutations, friends! My name is Thalia, and I am a curious and diligent junior ready for an exciting session of Zoo InternQuest. As my teacher tells me, with a nickname like "Badger," I was meant to work with animals.
From a young age, I had an interest in animals, which was evident to my parents when I attempted to pet a bee at the age of two, (with disastrous consequences). From then on I was surrounded by animals, from fostering litters of kittens and puppies, to owning mice, skinks, and fish. Even if my childhood was a little chaotic at times, keeping meals worms in the fridge and attempting to care for live crickets in my room, I wouldn't trade it for anything. Every day was an adventure, and every day my curiosity and love for animals grew.
Besides raising a menagerie in my home, my hobbies include reading anything I can get my hands on, rather obsessively watching Masterpiece Classic mini-series, and swimming for the Mission Valley YMCA. I also harbor a secret (now blogged) love for all Disney movies, and a desire to work as a Disney princess while in college. As a highly energetic type-A personality, swimming relieves my anxieties and helps to keep me calm. I also love to work as a part of a team, and swimming is a wonderful team sport.
My job interests have varied over my lifetime, from my first aspiration to be a collector of fine stuffed animals (which I soon realized is not a job) to being a professional bull-rider, which certainly shocked my kindergarten teacher. Since then, my future jobs interests seemed to hover between being a veterinarian, a biologist, or an animal behavioralist. However, recently I have discovered a passion for rodents, more specifically, rats. Being a proud owner of two lovely rats, Chica and Blanca, has introduced me to a group of animals that are both highly intelligent and surprisingly sweet. This newfound love for rodents has led me to aspire to be an exotic veterinarian. With the help of InternQuest, I hope to solidify my dream and find a way to make it a reality.
I can't wait for these upcoming seven weeks. It's going to be an amazing experience, and I can't wait to share it with you through my blogs.
Thalia
Fall 2012
RELATED POSTS