Zoo InternQuest is a seven-week career exploration program for San Diego County high school student juniors and seniors. Students have the unique opportunity to meet professionals working for the San Diego Zoo, Safari Park, and Institute for Conservation Research, learn about their jobs, and then blog about their experience online. Follow their adventures here!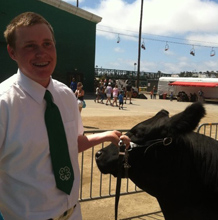 I have been interested in animals and wildlife as long as I can remember.  At the age of three, I would walk around telling people I was going to be an entomologist. I think my interest really started to unfold when I would watch Steve Irwin. He was just the right guy to get me really interested and excited about wildlife. In school, most of the other kids would be reading Magic Tree House, while I was reading a book by Jane Goodall or Steve Irwin. When I got a little older, my dad took me out to Joan Embery's Ranch and I loved it out there. I was always asking if we could go and visit the animals. Once there you had to practically drag me out.
My enthusiasm for animals just continued to grow as I grew. Thank goodness my mom liked reptiles because I soon had a nice collection of lizards and snakes, the envy of all the boys in my third grade class. I had my mom sign me up for every camp under the sun that had to do with animals, from camps at Birch Aquarium to the San Diego Zoo. My only real hobby that didn't involve animals was 4-wheeling in the desert. When I was old enough to join 4-H, I started raising animals for the San Diego County Fair. I loved this because it gave the hands-on experience that I wanted. I have raised pigs, lambs and even a few steers. This past summer I worked at a cattle ranch in Turlock, CA. On my return to home, I started to sell produce at a local Farmers Market. In my free time, I was also going onto the Zoo's website looking at the different jobs, which is how I found out about Zoo InternQuest.
When I heard about this incredible experience, I knew I had to jump at the opportunity; it seemed too good to be true. While participating in InternQuest, I will be able to explore different career opportunities from the experts themselves.
I'm excited to learn as much as I can from all the interesting people I will have the opportunity to meet, and looking forward to writing this blog for all of you to read. I'm so excited!
Scott
Fall 2012
RELATED POSTS