The Giant Panda Team at the San Diego Zoo completed another exam on our little cubbie this morning. The calm, 53-day-old cub didn't make a peep while he was weighed, measured, and examined by veterinarians. While being scratched behind his ear, it triggered a super-cute kick reflex in his leg that had everyone in the exam room saying "aww."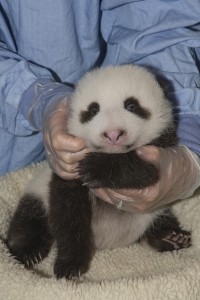 The newest cutie weighed 4.9 pounds (2.26 kilograms) and is 16 inches (42 centimeters) long. Veterinarians noted that his eyes are almost open now. They believe the cub has some vision, but it is likely limited to light and shadows. His chest now measures 12.5 inches and his well-fed belly is 14.5 inches around.
Bai Yun has started taking her boy out of the den and into her attached bedroom area while she eats bamboo, so don't be alarmed if you check in on Panda Cam and find the den empty. She'll return him soon.
Members of the Panda Team have nicknames for the cub, but we are still taking suggestions for the cub's official name through Monday, September 24. Just click here to submit your name idea!
Check out more pictures in our Panda Photo Gallery.
Click on the Giant Panda Cub Growth chart below to view in larger format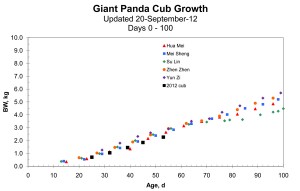 RELATED POSTS