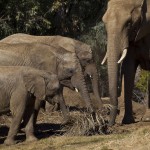 The Safari Park's African elephant herd continues to thrive, and we are all eagerly awaiting the arrival of Swazi's second calf, which is due late July or early August. Look for physical changes in our matriarch as she prepares to welcome her baby.  Will son Macembe (Mac) be a good big brother? Time will tell, of course, but so far Mac is one super cool, laid-back kid. Like his mom, Mac has long legs and is a quick-learning and confident two year old.
You'd think that Umngani, mother of three, would have her trunk full taking care of her brood. Yet she has been spending her time lately enticing Msholo, our lone bull, to come hither! He, of course, is happy to play along, and there may be breeding between the two soon. Luckily for Umngani and her raging hormones, daughter Khosi, who is almost six years old, is more than willing to babysit younger brothers Ingadze and Neepo, freeing her mom to flirt with the handsome Msholo. Ingadze is now three years old and has been the kindest big brother to little brother Inhlonipho. Keepers describe Neepo as a wild, high-energy boy who will have his first birthday in September. Neepo loves to sound his little trumpet and chase the keepers along the exhibit's fenceline. He has recently taken up a new talent: hopping!
Msholo has integrated very well with the herd. He is gentle with the little ones and attentive to the ladies. Even Ndula will occasionally interact with him, and she never interacted with Mabu (except during estrus and would then make him work!) Perhaps it's because her oldest son, Vus'musi, has become best buddies with Msholo. The two play wrestle often, especially in the pool. Although he is much larger than Musi, now 8 years old, Msholo gets on the younger elephant's level to help make the wrestling matches more even. What a guy! Ndula's other son, Luti, is 2½ years old and has replaced his big brother as a momma's boy. Keepers say Luti is shy and cautious about learning new things, although when he gets real excited, he hops on his rear legs, too!
Debbie Andreen is an associate editor for San Diego Zoo Global. Read her previous post, Elephants Emanti and Kami.
RELATED POSTS