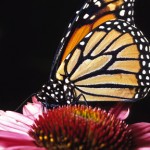 WOO HOO! Butterflies are back! Spring is in the air, plants are blooming, and I saw my first two monarchs in my courtyard last week!
As a zookeeper, I've worked with many species during my career. I've always been concerned about wildlife and habitats and how vitally important it is to conserve both, as each is dependent on the other for survival. But when I started working in the San Diego Zoo's Entomology Department, it really hit me. Working with invertebrates up close opened my eyes to how important conservation, and education, is to our survival…and theirs.

The population of one of my favorite animals, the monarch butterfly, has seriously declined in the last few years. While they get food in the form of nectar from flowers, they perform the critical act of pollination and thus are important for the survival of plants and the potential production of fruits, nuts, and vegetables. The best effort to help this beautiful butterfly comes by planting native milkweed, their host plant, in our backyards and gardens. While it might seem like a small act, each of us really can make a difference.
Behind our Insect House in the Zoo's Discovery Outpost is a small flower garden containing several plants for attracting butterflies. I had always wished I could do something similar in my own home, but I live in a very small condo with an even smaller garden space. What space I have is planted with a lot of succulents. But last year, I decided a small spot is better than none and planted six milkweed plants in the hope of attracting monarch butterflies. While I didn't ask, or expect, help from my neighbors, I did let everyone know what I was doing and how important it was and asked all to help "monitor" the new plants.
Within a few days, we had a number of butterfly sightings. We saw females laying eggs on the plants and later on watched as the caterpillars started eating them. What joy at watching all the butterflies alighting on the plants, going from one plant to another! One of the unexpected perks was how excited my neighbors became when the monarchs started arriving. It was quite surprising! Interest really increased when we spotted the caterpillars. Then we started comparing notes on how many caterpillars we saw, and before we knew it we started having "happy hours" to compare notes on our new neighbors. What a blast! Our complex is small, and we all know each other, but having a new butterfly garden created a good reason to actually stop and visit each other. And that led to several happy hours and lots of laughter during the season. But not to be lost in all this excitement is the fact we started a new way station for our insect friends, and I hope this will help increase their numbers.
Regardless of how much space you have, you can help, too. It's a great teaching tool for children about how important we all are and how important it is to save habitat for our animal friends. If you don't have any children, you can always have a happy hour with your neighbors.
If you decide to plant a butterfly garden for monarchs, be sure to use native milkweed rather than tropical milkweed, which is lasting longer and longer in our warmer climate and is encouraging monarchs to "stay out too late." They need to be on their way to an overwintering site by fall, and using a native species such as Asclepias fasicularis ensures the plant dies back after the first cold snap.
I will leave you with the story of the atala butterfly Eumaeus atala. On Key Biscayne in Florida, this endangered butterfly's range was restricted to the northern end. There was suitable habitat in the southern region, but it was thought to be inaccessible to the butterfly due to development throughout the central portion. The host plant for this species, however, was a favored plant for backyard gardens; enough people planted it to create a bridge for the butterfly to reach the southern edge and new habitat, where it is now established. Thus, the beauty of citizen science and butterfly gardens!
Barbara Boon is a senior keeper at the San Diego Zoo.
Note: The Xerces Society for Invertebrate Conservation provides native seed, including native milkweed, to interested parties.
RELATED POSTS