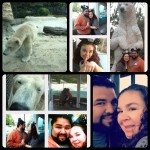 We came across this touching story on Twitter and wanted to share it with you. Thanks to Mike Markulis for reaching out to us. If you have any cute stories like this, tweet them to us. We hope you enjoy Mike's story as much as we did:
"My name is Mike Markulis. This is my girlfriend Leah Venegas, and this is our story of our trip to the San Diego Zoo. In 2011 Leah and I were proud annual pass members of both the Zoo and the Safari Park, after many memories and experiences we decided to upgrade to Diamond members! Nearly 3 whole months have passed and we hadn't gone to either park! We had to visit!!! Leah's birthday was April 1, and she wanted to share OUR Zoo with our friends. I had plans of my own……
I met Leah 5 years ago at Disneyland where we both worked. We were fast friends, and did not start dating until a year after we met. We have been together ever since, and I have found the woman that I want to spend the rest of my life with. We have had many memories at the Zoo and Safari Park, but no trip would compare to our March 31st visit. I made a video for Leah, and it was filled with pictures and music, most pictures from our many zoo visits! I wanted to show the video at the end of the day in front of her favorite, The Polar Bears! The day was coming to an end, and the big moment was coming. Nearly emptied, Leah and I sat on a bench in front of the above water habitat of the Polars, and I gave her my birthday present, the video. As it ended I reached into my bag and grabbed a "Tangled" jewelry box (her favorite Disney princess) and I asked her to share the rest of her life with me. She said YES! I could not be happier that that special moment took place at the Zoo, and with our good friends in tow. They made it more magical and provided Mickey groom ears and an engaged Minnie head band. They brought Disney to us! We are both avid followers on Twitter, but this story could not fit in 140 characters!! We are excited and happy and the San Diego Zoo is forever intertwined with our love story and we will forever remember that special trip to the San Diego Zoo!
All our thanks and admiration for what you do,
Mike Markulis and Leah Venegas
@mikemarkulis and @xxoLeahxx"
Matt Steele is the social media planner for San Diego Zoo Global. Read his previous post, Condor Chick Receives Name.
RELATED POSTS