Zoo InterQuest is a seven-week career exploration program for San Diego high school juniors and seniors. Students have the unique opportunity to meet professionals working for the San Diego Zoo, Safari Park, and Institute for Conservation Research, learn about their jobs, and then blog about their experience online. Follow their adventures here on the Zoo's website!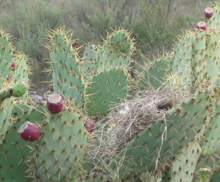 Today we met with Colleen Wisinski, Research Associate in the Applied Animal Ecology Division at the San Diego Zoo Institute for Conservation Research. We went on an adventurous ride through the 900-acre biodiversity preserve adjacent to the San Diego Zoo Safari Park on a search for a fascinating local bird species, the costal cactus wren.
The coastal wren is a subspecies native only to this part of the world and we are lucky to have these cute tiny creatures living right in our backyard! Cactus wrens love to build football-shaped nests inside prickly pear cactus stands where they stay all year round, unlike most other bird species. This charismatic bird  is considered a species of special concern, and it is our responsibility as San Diegans to help conserve it. Researches at the Institute, like Ms. Wisinski, are working to do just that.
Ms. Wisinski and her team of experts are working hard on a habitat restoration project focused on the prickly pear cactus to make it grow faster and taller. During the 2007 wildfires, many of the cactus wrens living on the Safari Park's biodiversity preserve perished in the flames, along with much of their critical habitat. Institute researchers are working vigorously to try and find the best possible way to grow prickly pear cactus quickly and effectively so that the remaining resident cactus wrens can rebuild their nests. Prickly pear cactus stands can take up to seven years to be tall enough for these birds to be able to build their nest in them (approximately three feet tall). Ms. Wisinski described three different methods that she and her colleagues are experimenting with in order to restore this unique habitat. One of the methods used is to cut a healthy pad from of a matured cactus and plant it inside a pot with soil and then monitor it in a controlled environment for six months. Then it is transplanted into the ground. Ms. Wisinski joked that she and her team call the pads that under go this particular method "the princesses" because of the way they are pampered and how each pad is tagged with a pink ribbon when planted.
But Ms. Wisinski and her team don't just plant and monitor cacti everyday. Every year they go out on a point count survey, once during the breeding season and once during the off season. They break into teams and disperse to different locations across the restoration area. Each team looks for nests and records the nest location on a map. This helps the team keep track of how many cactus wrens live on the preserve and to evaluate their use of the habitat. Sometimes the team will catch the birds and color code them by putting a small colored band on their ankle to see how far they fly away from their nest.
The biggest threat to both prickly pear cacti and cactus wrens is habitat loss, but predators such as cats, deer, and wood rats also pose a threat. Wood rats and cats are a huge problem for cactus wrens because they can climb inside cactus wren nests and eat their babies. Also, in the San Pasqual Valley where the preserve is located, the climate gets so hot and dry that a lot of plants can't survive. Prickly pear cactus is a thick, hardy and drought tolerant plant that easily survives the heat. To a lot of hungry and thirsty animals, the cactus looks like a tasty treat during the hotter times of the year, despite it's many thorns.
If you and your family and friends want to help conserve these little birds the best thing you can do is keep your cats inside so that they can't cause trouble for local birds like the cactus wren. Also, knowledge is power, so you can also help spread information about local bird species that need our help.
By the end of our adventurous hunt we had not seen any cactus wrens. However, we did get to hear them sing, echoing through the hills to create an amazing experience. As the sun set on the horizon, the rolling hills of prickly pear cactus glowed peacefully. The scene was beautiful, quiet, and tranquil. I know if I were a cactus wren, I would be content to nest along these hillsides.
Kayla, Conservation Team
Week Three, Winter Session 2012
RELATED POSTS