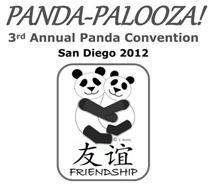 Hi, Panda Fans ~ Another Panda Palooza Announcement!
The San Diego Zoo has put together a special Adoption Package for the Gao and Bai family just for Panda-Palooza 2012. The certificate has our logo on it! There is a gorgeous photo of Zhen Zhen you can download along with the Panda Palooza certificate and panda facts. Everybody can purchase the adoption special. If you are attending Panda-Palooza, there is a discount! We'll be getting the discount to you shortly via email, or email pandaconvention@yahoo.com for the code.
Here's the link to the San Diego Zoo's Panda Adoption package…
Remember that all monies going to the adoption packages are used for enrichment items and toys for the animals at the San Diego Zoo and San Diego Zoo Safari Park.
And what a wonderful souvenir for PANDA-PALOOZA!
Diana Sutton is one of the six organizers for Panda-Palooza 2012.
RELATED POSTS