Zoo InternQuest is a seven-week career exploration program for San Diego County high school juniors and seniors. Students have the unique opportunity to meet professionals working for the San Diego Zoo, Safari Park, and Institute for Conservation Research, learn about their jobs, and then blog about their experience online. Follow their adventures here!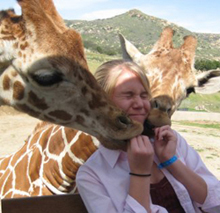 Hello! My name is Kayla and I'm currently a junior in high school. I am your typical teenager who is desperately trying to balance the hectic lifestyle of an aspiring young adult. I have played three years of varsity tennis and a year of water polo. Between school work and sports I try to spend as much time with my friends and family as I can. When I have spare time, I enjoy camping in the desert and going horseback riding.
After high school, I plan to go to college and major in zoology. I want to have a career in zoology with an emphasis on animal behavior. I'm hoping this major will allow me to explore all opportunities in wildlife research and allow me to get my dream job, which is to work at the wonderful San Diego Zoo.
When I first discovered this internship, I immediately knew that it was something I wanted to be a part of. I was accepted along with a couple of other lucky and intelligent peers. Over the course of the next seven weeks, we will have an inside look at many careers available at the Zoo, Safari Park, and Institute of Conservation Research. I want to thank all who have made this experience possible. I hope for those who follow my blog for the next seven weeks that you will enjoy the fascinating and thrilling adventure of my walk on the wild side. Enjoy!
Kayla
Winter Session 2012
RELATED POSTS