Zoo InternQuest is a seven-week career exploration program for San Diego County high school juniors and seniors. Students have the unique opportunity to meet professionals working for the San Diego Zoo, Safari Park, and Institute for Conservation Research, learn about their jobs, and then blog about their experience online. Follow their adventures here!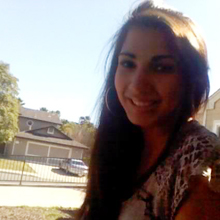 Hello, my name is Crystal. To put my life in a nutshell, I am a teenager that loves animals and loves to try new things. I am usually out volunteering at different events within the community, doing work for school, or spending the day traveling around Orange County to look at antique shops. I have been a committed vegetarian for 7 years. I volunteer at the Humane Society. I absolutely love being busy with some sort of activity. I have had the same dream since I was in the fifth grade—to become a zoologist. I have always enjoyed reading about all different kinds of animals.
I am really into poetry and everything antique! I already own a record player and a type writer. My favorite  poet of all time is Edgar Allan Poe. I read one of his poems, The Raven, when I was in the seventh grade. Ever since then, I been hooked on his poems and short stories even though they are dark and mysterious. My favorite poem by Edgar Allan Poe is Anabell Lee. I love the story behind it because it is about his wife and full of emotion.
As long as I can remember I have always had a pet. Over the years, I have had dogs, hamsters, fish and guinea pigs. I even use to collect little bugs. The pet that I really want is a pig. I find them really cute and fun. What sparked this love for pigs, I'm not too sure, but before I knew it I thought they were the cutest animals alive!
I love to travel. I have been to several different cities within Southern California, as well as New York, Florida and Puerto Rico. My dream is to travel all the way around the world. I would really love to go to Russia, Costa Rica and Africa. I am just completely fascinated by how beautiful these places are. I really hope to one day live in Africa and have a little farm. I'm not too sure where yet, but somewhere near South Africa.
I am hoping to pursue a degree in zoology and attend University of Hawaii, Manoa, or the University of California, Long Beach. I am really looking forward to the college experience and am excited to start the next chapter in my life.
Crystal
Winter Session 2012
RELATED POSTS