Zoo InternQuest is a seven-week career exploration program for San Diego County high school juniors and seniors. Students have the unique opportunity to meet professionals working for the San Diego Zoo, Safari Park, and Institute for Conservation Research, learn about their jobs, and then blog about their experience online. Follow their adventures here!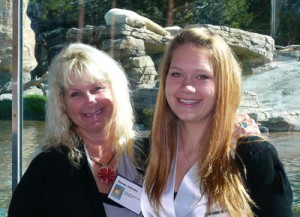 Hello there! My name is Rachel, and I am a senior in high school. I am so excited to be a part of InternQuest! I know that I will have special experiences in the fields of zoology and conservation that will only reinforce the fact that I want to work with animals in the future.
Animals are a huge part of my life, and my family and friends can definitely confirm that! I love being at the San Diego Zoo and the Safari Park, because I have the opportunity to connect with the animals and learn about them at the same time. I also love taking my dogs for long walks, watching Planet Earth reruns, and involving myself with the animal rights movement.
In addition to animals, motorcycles are a big part of who I am. I cashier at my dad's motorcycle dealership and am immersed in the world of motorsports many times a week. I love riding quads in the sand dunes with my family and taking watercraft out to Mission Bay.
Most of all, conservation holds a special place in my heart. The San Diego Zoo and Safari Park will show me how I can do what I love and help conserve our animals. I believe that we need to do everything we can in our power to preserve our beloved animal species, because without them, the world would be quite a boring place!
I am so blessed to have this opportunity to work with Zoo InternQuest, and I cannot wait to share my fabulous experiences with you!
Rachel
Winter Session 2012 
RELATED POSTS