I've had an absolute blast researching the saga of Snugglepot and Cuddlepie, the San Diego Zoo's first-ever koalas who arrived from Australia in 1925. Snugglepot and Cuddlepie also have the distinction of being the first koalas to live in a zoo outside Australia, which was big news back in the 1920s. I was thrilled to discover that our Zoo library has newspaper clippings dating back to 1916 when the Zoo was founded, and they contain a wealth of stories about the expedition that brought these precious marsupial superstars to San Diego. The Zoo has started construction of a new forest home and care center for our koalas to be called Australian Outback, and I thought I'd share a few historical tidbits for koala fans.

The adventure itself was filled with drama and intrigue. I can only imagine what it must have been like for San Diego Zoo Director Tom Faulconer to travel across the Pacific Ocean by steamship in December 1924 with 200 North and Central American animals onboard. He was the sole Zoo employee on the trip, responsible for everything from travel logistics to feeding the animals and cleaning their crates! In January 1925, he returned to San Diego with 200 unusual Aussie critters in tow. All aspects of the tale mesmerized me: major storms, seasick animals, an alligator escapee on deck with the passengers, a king cobra in Faulconer's stateroom, the koalas nearly missing the ship to the U.S., and many more escapades.
I was also fascinated by the writing style featured in the old newspaper clippings. The choice of words and phrases enchanted and sometimes amused me. By today's standards, some words have taken on different meanings, others might be considered old-fashioned, and a few would be deemed inappropriate. Below are some of my favorite headlines and passages, which include the original grammar and punctuation. Enjoy your journey back in time!
A KOALA IS…
Dec. 21, 1924 (The San Diego Union)
"A droll little fellow, abnormal in many ways, he is the original Teddy Bear. His little, podgy, tailless body, short thickset head and round, tufted ears lead some countenance perhaps to the ursine analogy, but there the likeness ends. When irritated or disturbed they utter a cry described as a hoarse groan. Young Koalas make delightful household pets. They are naturally docile and quickly become attached to their owners, following them about the premises."
Sept. 29, 1925 (The San Diego Union)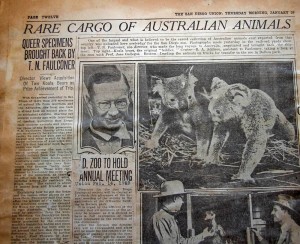 "He can climb anything, and when attacked, if unable to save himself by climbing he will lie on his back and swing his mean claws. But the koala is very affectionate and is fond of petting parties, never offering to attack a human being."
KOALAS IN THE NEWS
Dec. 21, 1924 (The San Diego Union)
Zoo To Have Koala Bears: Interesting Description of These Little Known Animals
"Since the word got around the Director Tom Faulconer of the zoo had gone to Australia to bring back Koala bears among other specimens, and that the zoo was going to undertake the propagation of them, the telephone at the Zoological garden office has been ringing constantly. A surprisingly large number of people are interested in various ways regarding the proposed undertaking, and the situation has at times taken a humorous turn. This was especially true when a prudish little old soul, fearful of the savagery of the beast, insisted that the zoo abandon the idea before lives were lost."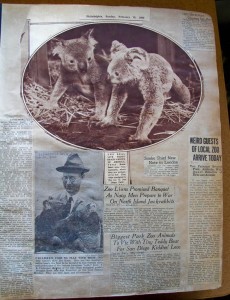 Jan. 27, 1925 (San Diego Sun)
Weird Animals Due for San Diego Zoo: Tom Faulconer Returns From Australia With Queer Collection of Birds and Animals
With enough kangaroos to hold "kangaroo court" every day in the month and enough weird birds and snakes to furnish scenery for a Dantesque picture of Delirium Tremens, Tom Faulconer, director of San Diego's famous zoo, is on his way from San Francisco to make the Balboa park institution rank second among the zoological gardens in the United States.
On his arrival in Australia, he made the old stories of horse traders pale into insignificance. Swapping a rattlesnake for a wombat, a wildcat for an egg-laying echidna, and so on down the line, would unfold a tale of barter that might have been entitled 'What Made the Wildcat Wild.'
As a result, the San Diego zoo will be enriched by some 28 kangaroos, to say nothing of an assortment of bandicoots, dingoes, phalangers, wallabies and whatnot. What may all these things be? Search us!"

Jan. 28 1925 (San Diego Sun)
Weird Guests of Local Zoo Arrive Today
If you heard loud, weird noises emanating from the foot of Broadway about 1 o'clock today, don't be alarmed. It was neither some new murder being perpetrated, nor was it a band of Cocopah Indians on the war path—it was merely 100 birds, together with a miscellaneous assortment of animals and reptiles completing their long journey from Australia."
By the way, if you would like to know more about the Australian Outback, please click here for details as well as to find out what you can do to help our koalas receive their new home!
Georgeanne Irvine is associate director of communications/development for San Diego Zoo Global.

RELATED POSTS