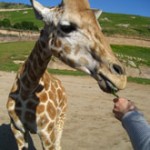 Zoo InternQuest is a seven-week career exploration program for San Diego County high school juniors and seniors. Students have the unique opportunity to meet professionals working for the San Diego Zoo, Safari Park, and Institute for Conservation Research, learn about their jobs, and then blog about their experience online. Follow their adventures here!
Hidden away from enclosures, animals, and public view, yet all around the San Diego Zoo, are the keepers' "red books." Large, red, and comprised of 365 pages, these books are used as a daily record, or a diary, of each day in a particular enclosure. Ms. Torrey Pillsbury, a senior mammal keeper, showed us one that is used for part of the San Diego Zoo Safari Park's field enclosure mammals. This book is important in maintaining the proper care of every animal. Recording animal behavior, diet, and medications, the "red book" is a means of communication between keepers.
Communication is the birth and continuation of civilization. With language, people learned to work together to achieve greater and seemingly impossible tasks. Ms. Pillsbury does the same thing for conservation just by simply going to work every day. In her area's red book, she writes down anything that other keepers will need to be aware of when they are on shift. Counting every animal in the East Africa portion of the park takes time and precision. Using a method of counting the notches in an animal's ear to identify it, Ms. Pillsbury will do rounds to see that "she's 340… that one looks like 324" until every animal is accounted for. By doing this, and then recording her findings in the red book, all keepers are aware of missing animals and new ones. Since "a lot of babies get tucked away," keepers need a sharp, trained eye to find young offspring that may or may not need to be sent to the Neonatal Care Unit. If there was no sure system that alerted any keeper of this new addition, the baby could perish because it did not get the care it needed.
Along with conserving the wildlife at the Park with communication, it is apparent that Ms. Pillsbury has the priceless ability to be very observant and understand animal behavior. Noticing small changes in an animal's health can mean life or death. On our tour through the East Africa enclosure, Ms. Pillsbury noted that giraffes "probably don't all look that full," and was able to guess that the animal was pregnant. In a case like this, direct action of keepers may not be as important as quiet observation. Sometimes, Ms. Pillsbury explained, if you look at an animal too long they get anxious and behave differently than if you weren't there; it's important to avoid this. For a pregnant giraffe, keepers need to note eating habits, weight gain or loss, and even more important, to make sure that the animal is comfortable and fit to develop and raise a baby.
Ms. Pillsbury is somewhat of a guard of a collection. Zoos have taken on the role of preserving species directly, and without keepers like her, they would fail to do so. Conservation touches the past, the future, and, most forgotten, the present. Zoos have the unique opportunity to conserve individual animals, the ones in their care. Without the dedication and skill of keepers that value communication and observation, these animals would not be living up to their fullest potential. By visiting the San Diego Zoo, you support the keepers and animals with each ticket and get the chance to see conservation in action.
Eliana, Conservation Team (Week 6)
RELATED POSTS