Alberta, a well-known and popular gorilla resident of the San Diego Zoo Safari Park, died peacefully in her sleep last night, October 13, 2011.
Born on March 21, 1979, at the Fresno Chaffee Zoo, California, to Alvila and Freddy, Alberta was initially cared for by her mother. However, it was soon apparent that Alvila had no milk to feed her baby, so Alberta was cared for by the zoo director's wife until she was healthy enough to be moved to the Safari Park. On April 23, 1979, Alberta arrived at the Park and was raised in our Animal Care Center, where she quickly became a favorite of visitors and employees.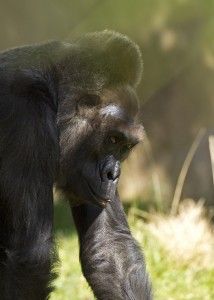 Starting at about three months old, she made daily visits to the Park's gorilla exhibit with her keepers, where she met her grandmother, Vila, and other members of the troop. Once she was old enough to move permanently to the exhibit, Vila took over her care.
Alberta flourished in the normal gorilla family troop, learned appropriate gorilla behavior, and helped raise little ones. Eventually, when Winston came to the Park, Alberta was introduced to him, and they had three offspring (Ione, Mbili, and Ndjole). Alberta's mothering style was far from the norm but very successful. Gorilla mothers usually have their infants riding on their backs at about 3 months of age; 10 days old was Alberta's idea. She also adopted an infant (Kebara) from a female (Penny) who was not prepared for motherhood. Alberta was still lactating and able to feed and care for the infant. Her own infant, Ndjole, was 10½ months old at the time. With Alberta and Ndjole's help, Penny learned appropriate maternal behavior and subsequently was involved in raising both of those infants.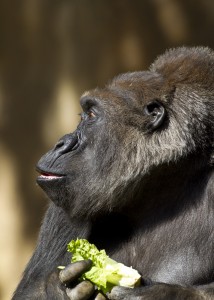 Since Monroe's birth in June 2011, Alberta had been spending lots of time building her relationship with Kokamo, Monroe's mother. As a result, Alberta was able to hold and play with Monroe occasionally and with increasing frequency.
Alberta recently had some shoulder issues and was a willing participant in her physical therapy, as she enjoyed all the attention from her keepers. A unique character, Alberta was an important influence in her troop, capable of solving complex social issues. She will be tremendously missed by Winston, Vila, Kami, Kokamo, and Monroe, and well as her keepers, Park staff, and visitors.
Peggy Sexton is a lead keeper at the San Diego Zoo Safari Park. Read her previous post, Gorilla Vila is 52!
See our Facebook photo tribute to Alberta's life…
Update (October 21, 2011): The gorilla Alberta, who died recently at the San Diego Zoo Safari Park, is greatly missed by the animal care staff who worked with her.  Her death was sudden and unexpected. Necropsy findings indicate that she died from an aortic dissection that ruptured (sometimes called a dissecting aneurysm).
RELATED POSTS