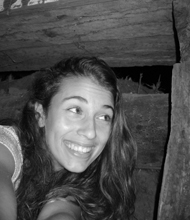 Zoo InternQuest is a seven-week career exploration program for San Diego County high school juniors and seniors. Students have the unique opportunity to meet professionals working for the San Diego Zoo, Safari Park, and Institute for Conservation Research, learn about their jobs, and then blog about their experience online. Follow their adventures here on the Zoo's website!
I feel this is somewhat awkward…. Since I have no elaborate way to introduce myself, I'll impress you with simplicity.
Name: Eliana (pronounced ee-lee-ah-nah)
School year: 12th (finally)
Now that that is out of the way, I'll share a bit about myself.
First of all, I love wildlife. Whether it's scales, claws, feathers, or fur–I'm all in. I take all opportunities to support animal and environmental conservation, from turning off the lights in a room to being a part of Zoo InternQuest. Ideally, I'll work with the San Diego Zoo or the United Nations Environment Programme when I get older, so I can guarantee the success of global conservation.
Second, I juggle a passion for running, photography, quotes, reading, and philosophy.
I'm a junior varsity cross-country runner, but I run because I love it. And in the spring, I became a sprinter. My races are very short (about 13 seconds). I've been running competitively since seventh grade. I'm excited to say that I'll finally be a varsity runner this year (if I work hard).
Surprisingly enough, I got first place at my school's art show for photography. I mostly dabble in the hobby. My friends and family are known to take my camera away whenever we go out to make sure I have fun doing activities, not just photographing them.
I mentioned that I like quotes, reading, philosophy, and I really do. My collection of books weighs more than I do. There are tales about everything: adventure, zombies, palm reading, and even a 1970s psychology textbook. Adventure is how I live, as a "daring adventure or nothing" as Helen Keller said. There is always time for sitting around, but there is never enough time for hiking, sailing, and dancing. Zombies cement this mantra in me. "Why?" you ask. Well, I'd hate to realize one day that, like the living dead, I indifferently followed the crowd, never helping the world I live in. Be it wildlife conservation or school policies, I've begun to start changing what I don't believe is right. Thus, when it is difficult, or when others don't see "world-changer" in their destiny, that doesn't mean that they won't resolve global wrongs, and it never means they shouldn't try. And zombies taught us that, arguably I'm sure.
This is who I am: a conservationist, runner, photographer, bibliophile, and theorist. Finally, to keep things simple – the end.
RELATED POSTS