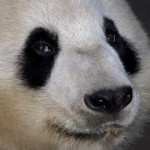 Why is pregnancy in pandas such a complex affair? On Friday, we reviewed embryonic diapause as a factor in adjusting the length of panda pregnancies (see post Panda Pregnancy: Embryonic Diapause), and today I'll describe another interesting aspect of their reproductive strategy: pseudopregnancy.

First, a definition: what is pseudopregnancy? Sometimes known as a "false pregnancy," a pseudopregnancy occurs when a female exhibits the signs and symptoms of pregnancy when in fact she is not experiencing one. Like embryonic diapause, pseudopregnancy is not a phenomenon limited to pandas; it has been observed in mice, dogs, and even humans.
In pandas, the signs and symptoms of pregnancy that also occur in a pseudopregnancy include a decrease in appetite, a decrease in activity level, and even physiological changes to the genitalia. The onset of these changes in a pregnant female follow the rise in progesterone noted after the period of embryonic diapause, when the blastocyst implants in the uterus. But here is where it gets tricky: pseudopregnant females also experience a rise in progestins. It is what is driving their behavioral changes, too.
In many animals, the way to detect pregnancy is to look for the presence of progestin byproducts in the urine, feces, or blood. In a panda, if you find progestins in the urine of a female you can only say definitively that she is either pregnant or pseudopregnant. So far, we haven't been able to identify a way with progestins to tell for sure if she is gestating a fetus.
Over the years, panda researchers have puzzled over this. What is really going on here? Is it possible that pseudopregnant females were actually bears that had, indeed, gotten pregnant but miscarried before the birth? That is certainly possible, and Bai Yun has shown us via ultrasound that she has three times carried twins only to give birth to a singleton. Clearly there is fetal death occurring in utero from time to time. It is entirely possible that many "false" pregnancies would retrospectively be classified this way, had ultrasound technology been more available in the past.
However, it is also true that in some cases, pseudopregnancy has been noted in females who had not even had the chance to breed. Thus, for those females, there was no possibility of a pregnancy (or miscarriage), and they went through the behavioral motions anyway.
Why would a female panda experience the signs and symptoms of pregnancy even if she didn't give birth? We aren't entirely certain, but here is one theory: because it doesn't cost them much to do so. From an energetic perspective, it doesn't take much effort to slow down and allow your body to become physiologically primed to gestate a panda fetus. Cubs only grow for about 50 days, which doesn't require a long-term commitment. And if you are a panda, which only mates once every two to three years while raising a single cub in between, it is important to have that pregnancy "take." If you miss a year, it's a big loss to your lifetime reproductive output. When the typical lifespan of a wild panda is no more than 20 years, and a female isn't fertile until at least 5 years of age, she can only rear about a half dozen cubs in her lifetime. Losing one has a big impact on her overall reproductive success. In the end, it could be as simple as a little cost-benefit math equation: pandas can't afford to lose the chance to reproduce, and it doesn't cost them much to be prepared.
Embryonic diapause makes it difficult to assess when we should expect a birth in the time shortly after breeding. Pseudopregnancy insures that we must interpret our progesterone and behavioral indicators with caution. How, then, do we actually confirm a pregnancy in pandas? I'm sure you have some idea, but there is also some new and exciting research on that front. That will be the topic for my next entry. Stay tuned!
Suzanne Hall is a senior research technician for the San Diego Zoo's Institute for Conservation Research.
RELATED POSTS