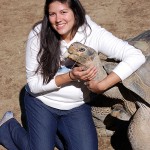 Let me start by saying that when it comes to tortoises, I am now a big fan. I may not have started out that way, but all it takes is one look into those big, yellow dinosaur eyes and you're hooked from day one…at least that's how it was for me.
Being from the East Coast, I was more aware of gopher tortoises, a cousin of the desert tortoise that occurs in the southeastern United States, and Galápagos tortoises, known for their size and fateful run-in with Charles Darwin, and, of course, because they are awesome. I've always wanted to see a Galápagos tortoise in real life, but how was that going to happen, short of buying a plane ticket to the Galápagos Islands?!

So I forgot about the idea and focused elsewhere until I applied for a position in the blistering desert and learned about a fascinating animal that I may never have gotten the chance to know: the threatened desert tortoise. Working for San Diego Zoo Global's Desert Tortoise Conservation Center (DTCC), located in Las Vegas, provides a lot of opportunities for its employees to learn about the species they interact with on a daily basis and encourages employees to get to know their fellow San Diego Zoo Global employees.
I had such an opportunity after the DTCC's conservation program manager came back from a meeting in San Diego. She told us she met the Galápagos tortoise keeper, who offered to give DTCC employees a behind-the-scenes tour whenever we were in the area; we could even meet the Galápagos tortoises up close and personal. Hearing this, my prime directive became "I need to get to San Diego." And get to the San Diego Zoo I did!
I met Jenna, the tortoises' friendly keeper, who immediately welcomed us into the enclosure; these gargantuan reptiles immediately swarmed us in hopes of being hand-fed bok choy. Jenna introduced us to several of the tortoises, and, like desert tortoises, each Galápagos tortoise had a different personality and will follow anyone who has food in their hand!
Oliver, my favorite, was blind, although he always knew where I was holding the bok choy for him, nipping at my hand if I was too slow to fill his gaping mouth, even if he wasn't done chewing the previous handful! Baby, tied with Oliver for my favorite Galápagos tortoise, is an adorable 10-year-old, overweight tortoise. Jenna explained to us that, though they try to get her to exercise, she would rather be eating (a sentiment I am familiar with!). When looking at Baby, I could see that she truly enjoyed the heart of palm she was happily munching away at.
Meeting Jenna and her herd of Galápagos tortoises was an amazing experience that I was able to have because of the warm and welcoming community of San Diego Zoo Global employees, who strive to make those of us at off-site field locations feel like we're genuinely part of the family.
Larisa Gokool is a research associate at the San Diego Zoo's Desert Tortoise Conservation Center. Read her previous post, New Lab Coordinator for Tortoises.
RELATED POSTS