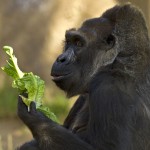 Zoo InternQuest is a career exploration program for high school students. For more information see the Zoo InternQuest Journals. For more photos see the Zoo InternQuest Photo Journal.
My parents have a hard time dealing with my brother's eating habits. His diet revolves around meatball sandwiches and burritos, while the thought of tomatoes make his stomach turn. Though he is as skinny as a rail, my whole family knows that the whole ordeal is not helping his health the way that some plated greens would.
Such is one of the existing problems that Associate Nutritionist Jennifer Parsons sees everyday, though she doesn't often have to deal with bean and cheese burritos. Her job consists of solving puzzles, fitting the needed nutritional values into the diets of even the pickiest animals.

Ms. Parsons told us about her more than 7,000 'children' she has to look after between the Zoo and the Safari Park. Included are the animals that have just arrived at the Zoo, those that are ignoring normal meals or are sick, and of course, the many healthy and happy inhabitants of the park that chow down on the giant supply of fruits, veggies, grains, and, if carnivores, meat. Can you imagine having to worry about so many animals from so many different species and, therefore, so many different nutritional needs!
Though animal nutritionists are faced with a remarkable task, when it comes to taking a first step, they, maybe surprisingly, rely on what they know about themselves as human beings.
First of all, while the Zoo maintains animals from all over the world, there is no possible financially solid way of securing foreign plants or animals for resident consumption. "What we have to do is look at the nutrients in the wild and break it down into 'our' ingredients." When we visited the forage warehouse where all the food is kept, it was similar to entering a neighborhood Costco (with the friendly addition of meal and earthworms). Refrigerated rooms were full of fresh cut local fruits and vegetables that looked ready to be my after-school snack. In the grain room there were even bags of dog food, horse feed, and cans of cat food that acted as a supplement to the animals' diets. By generalizing by species and relative groupings, nutritionists are able to provide everything animals' bodies need, even if that means using ingredients that we are familiar with.
It was also interesting to see the connections that have been made concerning cardiac disease and diabetes. While the occurrence of primate deaths due to cardiac problems in zoos across the country remains something of a mystery, Parsons suggested a lack of exercise combined with superfluous amounts of food as a probable cause, just like in human cases. In order to keep both people and animals healthy, a nutritious diet and regular exercise is necessary. For instance, the Zoo's Gorillas now have regular led walks around their enclosure, just as elephants do in order to encourage the exercise they would get in the wild.
The San Diego Zoo works really hard in order to give their animals everything they need, and this method of human comparison generally works very well. Even the picky eaters, whether that means a giraffe or a tiger, can be encouraged with a few alterations to their diets. Some individuals may just prefer peanut butter over their common snack, and their nutritionists step in as 'mom' and say they can have it as long as they eat the rest of their vegetables too. Problem solved.
Iris, Real World Team
RELATED POSTS