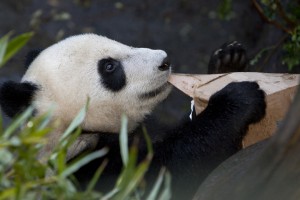 Our little panda has grown up, weighs a hefty 99.8 pounds (45.4 kilograms), and has learned that it was time to move out and find his own place. The weaning process went very well with very little stress to Bai Yun and Yun Zi. Our researchers and observers informed us that Yun Zi is one of the most independent cubs that Bai Yun has raised. Yun Zi really enjoyed spending time on top of his favorite log and the artificial den structure.

On Thursday, February 10, Yun Zi was showing signs that he was ready to be on his own the entire day by sleeping on his side of the exhibit and being calm. On Friday, February 11, he was ready to move upstairs and see his first apartment away from Mother Bai Yun. This was my first cub weaning, and it was a sad and a happy experience in my eyes. Yun Zi is the smartest cub yet, and I have the wonderful opportunity to continue his training. When he gets a little more comfortable being on his own, we will start more complicated training such as preparing for the hearing study, which his sisters were involved in, and calmly accepting vaccinations in the squeeze crate. He seems more than ready to start the hearing study training. We are all excited for all the challenges Yun Zi can teach us.
As spring nears, there will be some temporary housing changes for the pandas due to the construction of the future takin and red panda exhibits. There may be times when there is only one panda on exhibit, and it may be unknown which individual until that day. This is due to the fact that they are noise-sensitive animals. So please bear with us during this temporary time of construction as we try to make the pandas as comfortable as possible.
Jennifer Becerra is a senior panda keeper at the San Diego Zoo. Read her previous post, Yun Zi's Training. http://blogs.sandiegozoo.org/2011/01/11/yun-zi-training/
RELATED POSTS