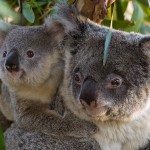 G'day, mate! We're getting ready to go on a walkabout during San Diego Zoo Discovery Days: Koalapalooza, presented by Outback Steakhouse. The four-day event runs Friday, February 18 to Monday, February 21. The Zoo has the largest colony of koalas outside of Australia—and it keeps growing. For the third year in a row, we are naming a koala joey (baby) as part of the Koalapalooza festivities.

This year the naming is a bit more challenging. Why? We don't know if the joey is a boy or a girl. The joey was born on July 21, 2010, and took its first peek out of the pouch the last week of January. So, to work around the gender issue, we've asked the Koala Team to look up some Aboriginal words that could serve as a name for a male or a female, which is tougher than it might sound.
The team came up with seven names, and we've posted them here for you to vote on:
Cambee ("blankets")
Jumbunna ("talk together")
Gummy ("spear")
Cuddelee ("dog")
Andi ("who")
Aroo (fan made of emu tail feathers)
Panda ("heart")
Yes, our newest koala could be named "Panda." That might be awfully confusing….
Your online vote will help us narrow the names down to the top three name choices, and then that's where the fun begins—we're going to let the mother, Yabber, pick her joey's name! How's that, you ask? Well, we've been working with the Koala Team to figure this out, and this is what we've decided to do. On the opening day of Koalapalooza, the three names will be placed on three different "trees" inside Yabber's habitat. Then, at about 10:30 a.m., a keeper will gently set Mom (with the joey in the pouch) on the ground of the exhibit, and the tree she chooses to climb will be the name for the joey in her pouch.
This is the first time—that I know of—when one of our animals has had a chance to name their own baby! We'll report back and let you know how it turns out.
If you're able to make it for the naming ceremony, you'll want to stick around for the other exciting activities at Koalapalooza. The whole Zoo will be brimming with Aussie-themed entertainment, including keeper talks, scavenger hunts, plush koala tracking with Zoo researchers, and live music from the land Down Under. You'll even have the chance to meet a koala and the other animals that share their habitat up close. Hope to see you there!
Jenny Mehlow is a public relations representative for the San Diego Zoo. Read her previous post, Elephant Encounters of the Cute Kind.
RELATED POSTS