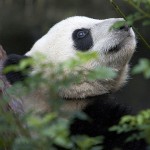 Things have been going well for pandas Yun Zi and Bai Yun during this first step of the weaning process (see previous post, So Far, So Good…). Although the door between them has been closed for a few short hours each day, the two animals are apart much of the remainder of the day, by choice. Keepers are reporting that most of the fecal piles left by the bears throughout the day and night place mother bear in the left-hand exhibit and her youngster on the right.

Yun Zi really seems to have taken to the right exhibit, Gao Gao's former home. Observers have noted in the last few days several instances in which mother and cub have been together, only to have Yun Zi trot off to "his" space for a few hours. It appears that his increasingly large frame is best supported by the big deadwood structures found in that exhibit in a way the old elm tree on the left side could not offer him. He has also been enjoying the comfort of the top of the old den in that exhibit, like his father before him.
With the reassurance of Yun Zi's success during this first part of the weaning protocol, we are set to move to Step 2. Tomorrow, February 1, we will begin lengthening the separation time. The door between bears will close as usual in the morning and will remain closed until early afternoon. They will receive their mid-day feed separately but be reunited before staff leaves for the night. As before, we will hold with this pattern for a few days to allow the bears to acclimate to this change.
We'll continue to keep you apprised of the changes during this process as we move forward.
Suzanne Hall is a senior research technician for the San Diego Zoo Institute for Conservation Research.
Video of Yun Zi and Bai Yun is now posted, and additional images of Yun Zi have been added to our Panda Photo Gallery.

RELATED POSTS