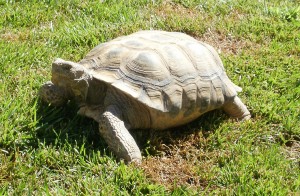 As the San Diego Zoo's Pet Desert Tortoise Hotline is wrapping up our first year of service here in southern Nevada, I am able to take a breath and reflect on the pet tortoises I have met. I feel great about all the pickups we have done to rescue pet desert tortoises in need, but there is one special tortoise that I hold closest to my heart: Big Guy.

Big Guy's story began last spring when his custodian, Mona, called the Pet Desert Tortoise Hotline. Mona was moving to an apartment and could no longer care for him.  Big Guy had been with Mona's family for over 25 years, so she really wanted to keep him, but she knew life in an apartment was a bad idea for a tortoise, and we here at the San Diego Zoo Desert Tortoise Conservation Center have seen the fatal results of apartment living for desert tortoises, so we were eager to pick him up and make sure he could continue to live outdoors in a burrow here (see post, Desert Tortoise: Big Guy).
We soon realized that Big Guy was a prime example of great captive care! He was the right size, weight, and color, and he showed no signs of disease or lethargy, a perfect example of what happens when you give a tortoise the proper living conditions like a burrow and native foods!  We got Big Guy settled into his new burrow, and I thought his happy story would end there …but there was an interesting twist!
Several months after Big Guy settled into his daily routine here, I received a call from a representative of Tortoise Group, the organization that operates the only federally approved desert tortoise adoption program in southern Nevada. To my surprise, the new owners of Big Guy's former home here in Las Vegas where he resided for 15 years had learned about him from Mona during the home-buying process. When Gloria and Jerry heard Big Guy's story, they immediately wanted to adopt him and contacted the adoption program, with Mona's blessing, of course!
Although Gloria and Jerry wanted to bring Big Guy home, they still needed to go through the legal adoption process and learn how to care for a desert tortoise properly. Since desert tortoises can live for 80 to 100 years with the proper care, it is really important for anyone considering adoption to realize the huge commitment involved in adopting a protected animal like a desert tortoise. Desert tortoises also have very specific diet and habitat requirements, but Gloria and Jerry were definitely up to the task, and all of their time and effort paid off. After spending several months renovating Big Guy's burrow and sprucing up the yard by adding more native plants for him to munch on, Gloria and Jerry were approved to adopt a desert tortoise. To kick off Big Guy's homecoming, his new family invited their friends to a fabulous welcome home party.
On the day of Big Guy's party, I wanted to ask his new custodians a few questions about why they wanted to adopt a desert tortoise. The answer was really simple: after learning about Big Guy's life with Mona and her family, Gloria and Jerry wanted to provide him with a good home, but they also wanted to do their part in helping a protected species. By going through the adoption process, the couple understood the long-term commitment and everything involved in caring for a desert tortoise properly. During the party, it was great to see Big Guy explore his new-and-improved surroundings, and amazingly, he headed straight to his burrow like he had never left!
Gloria sent me an update recently on Big Guy's progress, and I'm pleased to report that he is doing well, and he went into hibernation on October 30. Prior to hibernation, Big Guy also picked up his old habit of knocking at the back door with his beak when he wanted to join the family inside—I guess some things never change!
If you want to have a desert tortoise as a pet and you live in southern Nevada, you can contact Tortoise Group for information on how to adopt one; there are no other legal means of obtaining one outside of Tortoise Group.
Lori Scott is a research associate at the San Diego Zoo Desert Tortoise Conservation Center. Read her previous post, Desert Tortoise: Not Apartment-friendly Pet.
RELATED POSTS