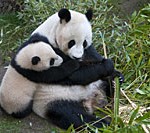 October is Kids Free Days at the San Diego Zoo (and San Diego Zoo Safari Park Park), and we are getting quite a large crowd of children eager to see and learn about our smallest panda, Yun Zi. This has always been one of my favorite times of the year, partly because kids ask some of those questions most of us adults just never think to ask! This time of year presents opportunities for educating the kids on what's going on at the San Diego Zoo, and it is also a time where we see a change in many of our animals' behaviors.

As the weather cools, we see that our animals have a change in appetite and activity level. Animals that spent their summer days relaxing are starting to play a little more. Yun Zi is a perfect example of this: last week he chased his mother around the enclosure for about an hour, trying to play while she just wanted a nap. Bai Yun would grab the youngster and push him away, but as soon as he got his balance again, he was after her.
But also with this weather we see our little man sleeping in quite a bit more! For those of you who have followed the pandas, you know that when cubs go through different stages of development they also change their habits. Yun Zi is beginning to eat more and more bamboo, but he still likes to have that time with Mom to nurse. There really isn't an exact amount of time that he nurses a day, and of course there's really no schedule to it, but it's always nice to see Bai Yun with her cub every now and then, having that special time with her.
I have seen Bai Yun eating for longer periods of time in one sitting. Saturday, she ate for a good two hours straight, partially because the cub wasn't on the ground to bug her. Females will often drop some weight when they are nursing, and for Bai Yun, this is something we expect to see. As we approach winter (granted it's a San Diego winter), and after the cub is weaned, we will see her weight begin to rise at a steady rate.
Gao Gao is doing a wonderful job at entertaining our crowds. Being in the spotlight again has not fazed him one bit, and he is happy to sit and eat right in front of his admirers as they enter the viewing area. So many times when Bai Yun and Yun Zi are sleeping, I have guests tell me how great it is to just watch Gao Gao, since he's right up in front. We are certainly glad to have him back on exhibit, showing what giant pandas do so well: EAT!
Come see us soon, if you can, and I hope everyone has a wonderful autumn!
Anastasia Horning is a panda narrator at the San Diego Zoo. Read her previous post, Hello, Handsome Gao Gao!
RELATED POSTS