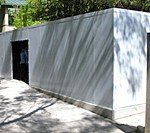 Slowly is how things here at the San Diego Zoo's Giant Panda Research Station seem to be progressing these days; perhaps not as quickly as we'd like, but a bit forward nonetheless. The large cement pad for the bamboo chiller is poured and cured, the wall and ceiling panels have arrived, and one by one they are being assembled into this state-of-the-art chiller. The outer coating of the panels is stainless steel, protected by a white plastic shield for assembly, and the interior is a high-density foam material, only about two to three inches thick.

Once it's assembled and the plastic removed, it should resemble a giant rectangular ice cube, gleaming in the sun behind the exhibits. (There are the exhibit bedrooms between it and the exhibits themselves, so it's not likely to be visible from the viewing area.) It appears that assembly is the easy part, however, and it could be another week or two before all the refrigeration components are put in place, and the unit is ready to fill with bamboo.
Also going slowly is Bai Yun, whose body is in no rush to begin estrus. It hasn't been that long in the grand scheme of things since weaning Zhen Zhen, and Bai is taking her time getting the hormones moving in the direction of mating season, if at all. She has continued to display some behaviors that might indicate estrus is coming, but then settles back to her eating/sleeping routine. This is not a bad thing, since we'd like to be sure that she's regained her pre-cub weight and is well rested before any possibility of a pregnancy. Keep in mind, though, that female pandas may skip an estrus after weaning and, although Bai Yun has never done so, it's always a possibility. And so we continue to watch and wait.
Occasional quick visits to Su Lin and ZZ indicate that all is well with them. Su Lin is becoming quite the near-adult and so resembles her mother from the rear that it is difficult to tell them apart without knowing who is where. ZZ, however, is still cub-like in her demeanor and behavior. She now weighs over 100 pounds (45 kilograms), and retains the playful inquisitiveness. She has discovered "the spot" in the Chinese elm tree and can sometimes be spotted napping there above the fence line, like her brother and sisters before her. It's nice to watch the family legacy live on.
And Gao is his sweet, charming self, but has taken to napping behind the climbing structure in the center of his exhibit, essentially out of view: not considerate of our visitors, but perhaps a bit quieter for him on these busy Spring Break days.
Ellie Rosenbaum is a panda narrator at the San Diego Zoo.
RELATED POSTS