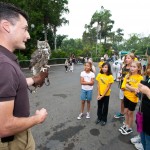 In my very first post about being the Elephant Odyssey Ambassador, do you remember when I said I'd be traveling around the country? Well, that's what I did! (Read Rick's previous post, What is an Elephant Odyssey Ambassador?) I packed my trunk and headed for New York and Washington D.C. to start spreading the news. However, there was no way I could do this alone. I was fortunate enough to have a small team with me. I affectionately called our little group "the herd" as we roamed the amazing city of New York heading to and from our appointments. Our goal was to share the news of Elephant Odyssey with as many travel editors and writers as possible in just a few days. Personally, I think we achieved our goal quite well in the few days we were there.

Throughout my travels I was constantly amazed by the warmth and kindness of New Yorkers. Having been a "West Coast" guy all my life, I had heard plenty of stories about the "New York attitude." Apparently that is just a myth! Everywhere I went I was greeted with warmth and hospitality. People were even more excited when they found out I was with the San Diego Zoo. Everyone wanted to know what brought me all the way to New York. (Of course, I told them all about the many wonderful things to expect with Elephant Odyssey.) I was also impressed with how many people had their own great stories. Some people told me about their memories from their childhood experiences visiting the San Diego Zoo, while others told me about visiting the San Diego Zoo just a summer or two ago.
Then it was on to Washington, D.C., where we met with more editors and writers. Again, I was amazed at the hospitality of everyone we met. From the taxi drivers to the hotel staff and everyone else, we were warmly welcomed to the nation's capitol. However, the weather was less than warm. For instance, I had a wake-up call one morning where the recording gave the time and current temperature. Bad idea: it was 18 degrees outside! Not really a big motivator to get out of a nice warm bed when you know it is below freezing! Nonetheless, it was a great trip and a wonderful opportunity to tell people about Elephant Odyssey and all that is happening back in sunny San Diego.
I must admit we were very busy every day as we went from one meeting to another. So busy, in fact, that I just had enough time to get a glimpse of some of the great scenery of New York and Washington, D.C. I am looking forward to the day that I can take a vacation and head back to those cities as a tourist.
Rick Schwartz is the San Diego Zoo's Elephant Odyssey Ambassador.
RELATED POSTS