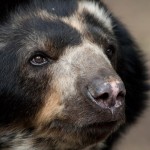 Russ Van Horn is studying Andean bears in Peru. Read his previous blog,
Andean Bears: Ready for Their Closeup?
I've just left Lima after attending the Second International Symposium on Andean Bears. Nearly all of the scientists currently working on Andean bears attended this symposium, which was the first such meeting in 20 years. Dr. Ron Swaisgood, Division Head of the San Diego Zoo's Applied Animal Ecology Division, presented an overview of reintroduction programs based on his experience working with several species, and he was one of three panelists in a lively workshop on rescue, rehabilitation, and reintroduction of Andean bears.

I presented the preliminary results of a survey conducted on captive Andean bears in North America. This survey is a joint effort between various groups at the San Diego Zoo: veterinarians, husbandry staff, and researchers. We're working to identify the risk factors associated with chronic and progressive hair loss among captive Andean bears so that we can then form and test hypotheses about the underlying cause and develop effective responses. Through our work, we've realized that this condition is relatively common among female Andean bears in captivity, and we've formed some hypotheses as to what might cause this hair loss. We need to collect additional data, though, before we can reach conclusions and suggest treatments or preventative measures.
The symposium was an exciting opportunity to learn about the other work being conducted on Andean bears, both in situ and ex situ. There is some great conservation science being conducted by several South American researchers, and we discussed research and conservation goals. I believe we've laid the groundwork for some productive collaborations, but only time will tell how these develop. Because over 100 people attended the conference, exhibiting a mix of passion and scientific rigor, I suspect it will not take another 20 years before the Third International Symposium on Andean Bears is held.
RELATED POSTS